What to expect
We are ready to see you! Being well-prepared for your appointment will ensure that the doctor has all of the needed information to provide the best possible care for you. It will also help alleviate any unnecessary anxiety you may be feeling prior to your first appointment.
First Visit?
We're excited to get to know you! Please follow this quick new patient checklist.
Step 1
Please read our patient portal instructions and register for our patient portal. After you call to schedule an appointment, we will email you a custom link to activate.
Here you'll be asked to fill out your health history, pharmacy information, and medications.
Step 2
Fill out the Designation of Care form, the Insurance form, and the Privacy and Credit Card Authorization form.
If you registered for the patient portal, you may skip the health history forms.
Step 3
Please review our Notice of Privacy Practices and our Policy for Minors to better familiarize yourself with our practice.
Step 4
And while you're here, please review what to bring to your next visit with us.
Completed New Patient Forms (see step 2)
Government Issued Photo ID
Insurance Card (Please be prepared to present this card at every visit)
Visa/Mastercard
Copays
Referral (If applicable)
Interested in Telemedicine? Read about it here.
Nearly all major insurance plans accepted
At Advanced Dermatology, Mohs & Laser Surgery Center, we accept most traditional insurance plans. Please call our our office to verify that we accept your plan. Qualifications for insurance coverage may differ due to the uniqueness of each procedure. Please be prepared to present your insurance card at every visit.
We provide out-of-network service for patients as well
When you make your appointment, you will be provided with the appropriate paperwork to submit your claim to your insurance company. Payment is expected at the time of your visit.
Please be advised: Our Office does not participate with any Medicaid plans, including NJ Family Care.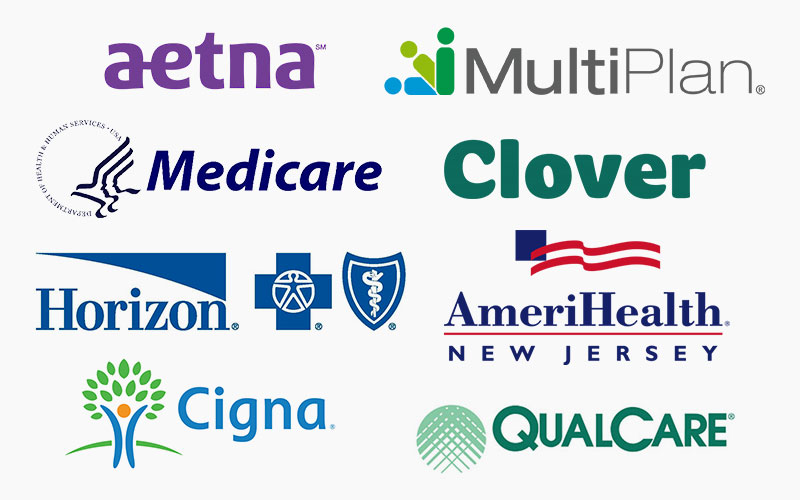 Appointment Request
We are happy to help you. Please call us to make an appointment or click the button below to fill out our appointment request form.
Please be advised that we allow patients to be up to 15 minutes late for their appointments. However, if you arrive more than 15 minutes late, we will ask you to reschedule. We also have a have a 24-hour cancellation policy. If you miss your appointment without giving us 24 hours notice, you might be billed for your missed appointment. Please contact our office with any questions you might have.